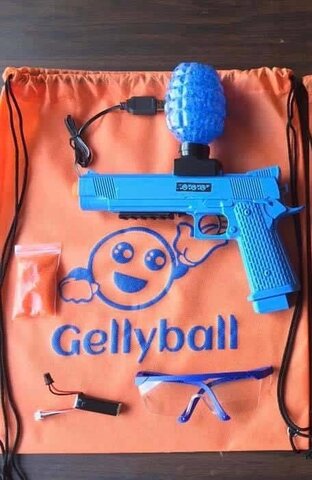 GBG GellyBall Retail Gun
Try out GellyBall with this all inclusive GellyBlaster Kit!
Playing the game is the BEST way to learn what GellyBall is all about!
This all inclusive kit includes:
2 GellyBlasters – (1 red, 1 Blue)
1,000 Hydrated ready to shoot GellyBalls
10,000 dehydrated GellyBalls
3 GellyHoppers
1 Battery with chargers
1 set of safety glasses
Sold in RED or BLUE
Every GellyBall product we sell comes with a 100% money back guarantee!
GellyBall 1911 Pistol
Lightweight and easy to carry, you can use this pistol as your primary weapon, or holster it. The bottom tactical rail is perfect for tactical lights or lasers – or mount your GoPro camera!
Colors: Blue, Red
Ages 7+
Weight: 1 lb.
Length: 11" long
Height: 7" tall
Width: 1.5" wide
Capacity: 750 GellyBalls
Battery life: 3000 shots
Rate of fire: 15 GellyBalls per second