Field Size and Requirements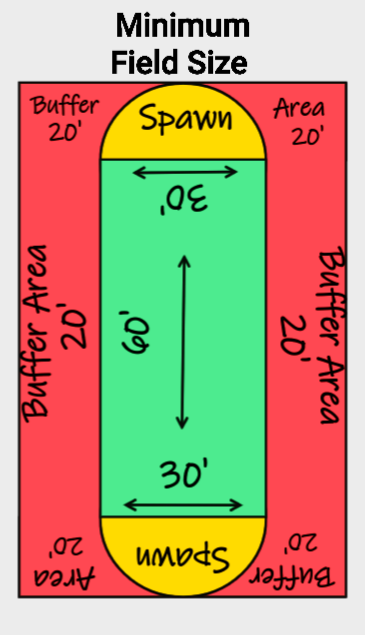 General observation of event space and setup area
As a mobile operator, that primarily comes to your location, it is necessary for us to understand what terrain and environment we will be setting up in/on for your event. In order to provide the safest service and to limit any subsequent damage / injuries, we request any and all information pertaining to your event location such as: play area, type of setup surface (grass w/o sprinklers, grass with sprinklers, turf, pinestraw, gravel, crush and run, etc.), elevation change, ground obstructions / tripping hazards (rocks, roots, pine cones, sticks, holes, etc.), level of soil saturation, and pontential health hazards (animal waste, sewage backup, exposed ground wires, insects [yellow jacket nest, wasp nest, anthill, etc.], loose animals, gas canister/ propane/ oil can/ chemical barrels).
Set-up, play area, and field size requirements
To ensure that there is no collateral damage, there is a minimum requirement for space needed to operate the event, we do this in order to provide the best service possible. For example, for our GellyBall product the minimum field size is 60ft × 30ft, with a 20-50ft buffer, depending on the surrounding structures, vehicles, and spectating area.

This area should free from potential safety hazards and trees (unless field set-up is permitted in a wooded area). Generally we do not set-up on any hard surfaces (poured concrete, asphalt, gravel, etc.) and ask that the provided space be either grass, dirt, or a rubber composite surface, for indoor any hard surface such as tile, hardwood, or carpet must have subflooring. Additionally, this area should be a relatively flat surface, with little to no slope, we also require that the set-up area is no more than 100yrds from the driveway or parking area provided to our staff members (unless permission is given for the staff to drive a truck and trailer on the setup surface).
Information request and survey acknowledgement
If you are unable to provide the information needed to determine adequate play space, a site survey will be required and incur a one time $50 fee at time of the survey, this is mandatory in order to provide safety, and complete the booking process. If you acknowledge the requirements and terms listed above, as well as being able to provide a safe and adequate space for your event a survey is not necessary.
Notice of Cancelation

Upon arrival of the GellyBall Operators to your location, if discovered that the play area size is inadequate for use, or that there are potential safety hazards, and they can not be rectified before the start of your event. GellyBall of GA will reserve the right to refuse services in good faith to preserve the safety of our staff as well as our customers, and uphold the policies put in place by Raindrops Express LLC, DBA GellyBall of GA in accordance with the insurance policy underwritten by Specialty Insuance LLC. At that time, GellyBall of GA will cancel the event and withhold a fee that is 25% of the total cost of the event, additionally GellyBall of GA will issue a refund of the remaining 75% within 3-5 business days after the event. No exceptions.